Leg Cramps: Shins, Calves, and Thighs

Leg cramps are the most common type of muscle cramp for people of all ages. They happen while you're sleeping, they happen during exercise, they happen in the office, and they happen at lunch; leg cramps just happen. The old Amish formula used to make Stops Leg Cramps is able to stop shin, calf, thigh, hip, or any other type of muscle cramp in about 60 seconds and prevent them from coming back for 24 hours, but there are still a number of things that you can do to improve the health of the individual muscles in your leg and keep the cramps from ever coming back.
We'll start with some of the general things to keep in mind when trying to get rid of leg cramps of any sort. Choose the type of cramp you are having below to skip straight to that section and learn some specifics.
Shins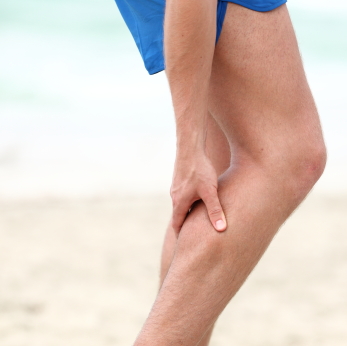 • Being overweight, pregnant, elderly, or having various medical conditions such as diabetes or varicose veins can attribute or cause cramps in the legs. Consult your doctor and explain what is going on if you think this may be the case.
• If you are careful to take note of circumstantial things like the time, position, what you did that day or the past few days, the climate you were in, the clothes you were wearing, and anything else you can think of when you get a cramp, it can sometimes point you in the right direction. If you notice anything in particular that seems to be present every time you get your leg cramp, it might be best to start by trying to change this. Maybe you were exercising on an empty stomach, or maybe the socks you had on were a bit too tight around the ankles; learn more about what might be causing your cramps.
• Our Stops Leg Cramps natural remedy is able to prevent leg cramps from happening and stop a cramp in about 60 seconds, sometimes less. You take a capful or two from the bottle and that's it. You're good to go. Visit our home page to learn more.
• Drinking plenty of water and being sure to stretch and engage your muscles on a daily basis is great for your overall health, but it also lowers the chances of a leg muscle cramping up on you. Keep in mind that some leg cramps can actually be caused by a muscle being overstretched or pushed too hard during exercise, so you've got to find a nice medium. And don't forget the water! Check out this article on hydration and cramps for more info.
• If you only seem to be getting leg cramps while you are sleeping, or this seems to be what happens most commonly, you can check out our article on leg and muscle cramps at night for more detailed information on this.
• If you only seem to be getting leg cramps while walking, bicycling, jogging, hiking, swimming, or otherwise exercising, you might want to take a couple of minutes to check out our stretching guide for dealing with cramps. You may already know how to stretch your muscles, but there is more to the process than simply doing the stretches. There are also various articles dedicated to cramps during specific physical activities available back in the Library section.
• Many leg cramps that occur are just common cramps and can be taken care of using the Stops Leg Cramps natural remedy, but leg cramps can also be a sign of a more serious condition. Consult your doctor if cramping worsens, persists, or appears with additional symptoms.
The above bullet points provided you with some basic aspects of leg cramping. Below is the technical stuff – we'll get into cramps in specific muscles and areas of your leg, along with the things that you can do to find relief.
The primary muscle of your shin is the tibialis anterior muscle, the main purpose of which is to flex your foot. Move your foot around at the ankle and you'll be able to feel the tibialis anterior muscle at work. One very common association with shin splints or pain/cramping in the shins is being flat footed. If you are flat footed, your foot is forced to flatten out and strain the muscles in your legs and feet every time you apply pressure to your foot by walking or otherwise standing on it. This causes a great deal of strain to the tibialis anterior muscle, and excessive strain or overuse of any given muscle will often times cause a cramp immediately or later on.
If you are flat footed, it may be that you need to purchase orthotic slip-ins for your shoes or entirely different shoes that are designed for people with flat feet. Keep in mind that your shinbone - along with the tissue and muscles attached – are ultimately responsible for holding your weight when you're on your feet. In some situations, losing weight or working to improve the strength of your shin and leg muscles can provide a great deal of relief to cramps in the shins or shin splints.
Calf cramps are perhaps the single-most common type of cramp. Countless individuals suffer from cramps in their calves at night, during sports, while sitting on the couch, while walking down the street, or in just about any other circumstance you can think of. You can usually see and feel the large muscle in the back of your leg harden and sometimes twitch or spasm when the muscle is cramping, and there is usually quite a bit of pain involved, so it's usually pretty easy to tell if you are indeed experiencing a cramp in your calf.
Your calf muscles are actually comprised of two individual muscles: the gastrocnemius (gastroc) and the soleus muscles. These two muscles conjoin at the bottom of your calf and become connected by a strong tissue to your Achilles tendon. Your gastroc muscle is the large muscle that bulges out at your calf and feels a bit like a baseball in your leg when it is cramping, while the soleus muscle is a thinner, deeper muscle that runs underneath the gastroc muscle and down to your Achilles tendon.
Both muscles in your calves are very closely connected with your feet, and a lot of things involving your feet can cause your calf or shin muscles to cramp. Check out our page on foot cramps to learn more.
The Stops Leg Cramps remedy works for cramps in your thighs just like it does for any muscle cramp: it stops them in about 60 seconds and prevents them for 24 hours. In some instances, cramps that happen in your thighs can be a result of spinal cord issues, kidney failure or an underactive thyroid, diabetes, or alcoholism. Pregnant women are also at a higher risk for cramps in the thighs and legs - learn more about leg cramps during pregnancy.
Strain to your muscle from overuse or failing to stretch before exercise can also cause muscle cramps, so don't forget to consider any physical activity that you've done in the past few days as a possible cause. If you think your thigh cramps are the result of muscle strain, there are a number of things you can do:
• Take 1-2 tablespoons of the Stops Leg Cramps remedy
• Take a warm bath
• Lightly stretch your thigh. If you have a cramp in the back of your thigh, you can alleviate the pain by lying on your back, raising the cramping leg, and straightening your knee with your foot pushed against a post, tree or wall. For a cramp in the front of your thigh, lie on your back and pull the leg towards your chest, bending at the knee. We've also got a page dedicated to stretches for cramps that you might want to check out.
• Apply muscle rub to the pained area.
• Massage therapy or acupuncture has proven effective for some people with thigh cramps. Always consult your doctor before beginning any of these treatments.
Additional Reading: